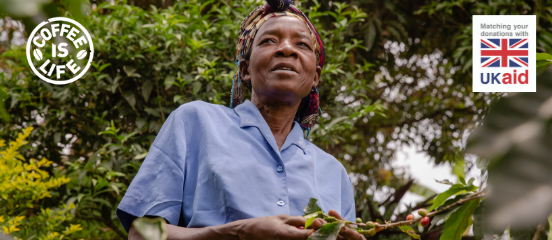 Farm Africa's Coffee is Life appeal has raised more than £300,000 for the charity's projects across eastern Africa.
Between 8 February and 8 May 2019, the UK government matched all donations from the UK public. A total of £242,000 in matched funding was unlocked from the UK government, which will directly fund a Farm Africa project that will give women in Kanungu in western Uganda the opportunity to make a decent living from coffee farming.
The appeal was backed by the National Farmers Union, whose President Minette Batters and Vice President Stuart led a team of five 'running farmers' who ran the Virgin London Marathon for the appeal in April, raising a total of £47,400 including Gift Aid.
The appeal's supporters included comedians Ed Gamble, Lou Sanders and Tez Ilyas, who performed at Farm Africa's Laughing Season comedy gig to raise funds for the appeal in April.
Leading restaurants including Mere by Monica Galetti and Dinner by Heston Blumenthal also offered their support by inviting diners to donate £1 per head to the appeal.
Other communication partners included Farmers Guardian, the Voice newspaper, the Rock and Roll Farming Podcast and the Staff Canteen website for chefs.
Jenni Bright, Director of External Relations at Farm Africa, commented:
"We are absolutely thrilled to have exceeded the appeal's target of £170,000 by such a large margin. Empowering female farmers to achieve their potential is an issue close to our hearts at Farm Africa and it's fantastic to have the dedicated backing of so many supporters across the UK. We're enormously grateful to everyone who supported the appeal, from dining out to giving at church to attending our comedy gig to taking on the famous 26.2 mile London Marathon course, we couldn't have done it without you!"
In the Ugandan coffee sector, women provide the bulk of the low paid, unskilled labour, while men own the land and make most of the profit. Women typically earn 38% less than men. The Farm Africa project in Kanungu will help female farmers gain access to the land they need to grow coffee on, set up savings associations so they have access to finance to invest in developing their businesses, and support to take on leadership roles within their local coffee cooperatives.